Baisinger Art Glass Studio
Baisinger Art Glass makes any table or home more beautiful
Food Meets Art — Create dazzling and festive tablescapes from our array of dinnerware collections, coordinating accent pieces, platters and serveware. Beautiful art glass tableware guarantee visually stunning culinary presentations or tabletops for home chefs, restaurants, caterers or hotels.

Light Up Your Life — Art glass adds another dimension to illumination with chandeliers with graceful fluid shapes, wall sconces, lamp shades, light panels and hanging pendants. Enhance any commercial interior or residential installation with custom designed lighting fixtures. Custom design is available for architects and interior designers.

For the Love of Art — Therese Baisinger, is first and foremost, an innovative and well respected glass artist. In addition to her 'functional art' lines, Ms. Baisinger's beautiful art glass sculpture pieces are highly sought after by collectors and interior designers as accent pieces or focal point.
View Galleries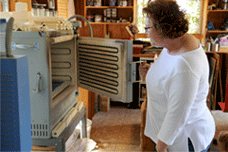 THERESE IN THE STUDIO
Glass artist, Therese Baisinger, has been designing unique fused art glass pieces for nearly 20 years. Her work is dramatic, sophisticated and sometimes whimsical, and most of her pieces — including her stunning tabletop collections, decorative centerpieces, serving accessories, and creative contemporary lighting — are also durable and functional.
Read More